About us
We work with developers, low-income communities, government, and others to finance socially responsible projects utilizing our industry contacts and knowledge of tax incentives and the renewable energy industry. We are unique; we aren't just financiers. Our management
has developed and invested in energy, transmission, and other projects located in low-income communities.
Roeder & Company has experience applying for and structuring New Markets Tax Credit ("NMTC") transactions for traditional real estate development and renewable energy projects under IRC Section 45D. Transaction structures have been designed to combine NMTCs and Production Tax Credits ("PTCs), Investment Tax Credits ("ITCs"), or federal grants in lieu of the PTC to various renewable energy projects. These structures bring in one or more tax credit investors who invest equity in the projects by purchasing the tax benefits.
Tax advantaged transactions are often complicated, but can provide 10% to 50% of the project cost for the developer that is willing to take a community approach to its project.
Do you have a project looking for NMTC financing?
Please fill out our
intake form
and email the completed form back to us
here
.
---
In August 2012, Roeder & Company helped facilitate an $8.4 million Qualified Equity Investment (QEI) in Lime Wind, a wind farm owned by the Joseph family and located in Lime, Oregon. Lime Wind is one of two locally owned wind projects built in Oregon, it is the first wind project built in Baker County, and the first wind project built on BLM administered lands in Oregon. For more information, please visit

Lime Wind

.

In October 2012, Reynold Roeder, founder of Roeder & Company, joined the board of Union Gospel Mission ("UGM"). UGM provides meals, clothing, resource referral, prayer and spiritual support, and addiction recovery services to the homeless and people in need. UGM completed their building expansion in 2005 using New Markets Tax Credit financing and Roeder & Company advised on that transaction. For more information, please visit

UGM

.

In May 2012, Roeder & Company advised Lightning Dock Geothermal HI-01, a subsidiary of Cyrq Energy, in connection with the negotiation and execution of a power purchase agreement with PNM Resources of New Mexico. Lightning Dock is located in a highly distressed rural census tract in southwestern New Mexico, and is anticipated to produce clean renewable power for the state of New Mexico. For more information, please visit

Lightning Dock

.
---
Community Involvement
Contributions to the Oregon Community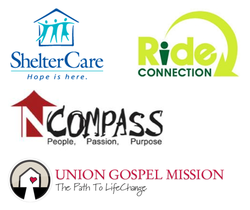 Roeder & Company, LLC has made substantial gifts to the following organizations:


---
Habitat For Humanity - South Dakota
Reynold (our CEO) and his daughter, Sara (our Vice President), spent spring break 2008 working on a
Habitat for Humanity project in Timberlake
, South Dakota on the Sioux Indian Reservation. Sara coordinated the project and Reynold was a parent chaperone for a group of students from Stevens Institute of Technology out of Hoboken, New Jersey.
---
Kids of the Kingdom Preschool - Oregon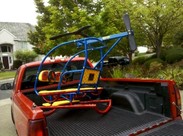 The Roeder family has been very active with this mission of
Shepherd of the Valley Lutheran Church
. The Roeders regularly donate in excess of 500 hours a year to this
Christian Preschool
and its predecessor day care. The picture above is shows some playground equipment assembled and delivered in summer of 2010.
In June of 2011 the Roeder's donated their time to a landscape and signage project. Below are pictures of some signage hand made by our CEO, Reynold Roeder.
---
Habitat for Humanity - Oregon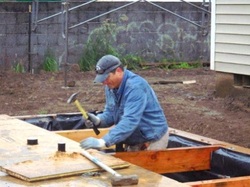 Reynold and Sara were swinging hammers again. This time working with Shepherd of the Valley Lutheran Churh and Willamette West Habitat for Humanity in the
Ramble Glen Neighborhood
. It rained (well, it is Oregon!) while they laid decking and hung siding at three of the home sites. Another volunteer day is planned for July 2011.
---